Ivan V. Lanier
President / Chief Executive Officer
Ivan V. Lanier is the founding President and Chief Executive Officer of Greenwill Consulting Group, LLC. With more then thirty years of government relations and legal experience.  Mr. Lanier has an in-depth knowledge of Maryland's legislative process, specializing in energy, medical cannabis, transportation, telecommunications, property, alcohol, and health-care legislation.
Lanier founded the firm in 2002 and under his leadership Greenwill Consulting Group has grown to become one of the leading government relations firms in Annapolis, Maryland.   For the sixth consecutive year Ivan has ranked as one of the top twenty-five performing lobbyist in Annapolis, Maryland.  He currently represents or has previously represented many Fortune 500 companies and continues to service a diverse list of clientele.
Ivan is widely recognized as a bipartisan lobbyist and believes that to be successful as a government relations professional, one must have strong relationships on both sides of the aisle.  Through his vast experience, Ivan knows that virtually every vote is a coalition of Democrats and Republicans, and that his lobbying effort builds that alliance of Democratic and Republican legislators.  Through Ivan's leadership, Greenwill has developed an expertise for bringing together such a coalition that supports the positions of its clients.
Mr. Lanier is a retired Police Sergeant from the Prince George's County (Maryland) Police Department. During his twenty-year career with the department, he served as Commander of The Basic Training Division, Director of Wellness, Master Firearms Instructor, Emergency Vehicle Operations Commander and Criminal Law Instructor.
Ivan's professional successes have been recognized by many organizations.  His most recent appointment was as Chair of the Maryland Clean Energy Center and Vice Chair of the Maryland Association of Energy Professionals.  Ivan's a member of the Corporate Round Table of the National Black Caucus of State Legislators, which is comprised of business professionals from around the country.  He's also a member of the Board of Directors of The Maryland State Troopers Foundation, The Washington Networking Group, The Maryland Washington D.C. Utility's Council, The Minority Public Affairs Group, The Legislative Mentoring Group and The Maryland Upper Shore Council of Economic Development.  He is the recipient of numerous awards and  through his forty-five years of serving the public.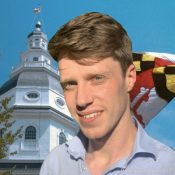 Jacob Moore
Legislative & Policy Analyst
Jacob previously worked for Allegany County Government in Planning and Zoning. He handled special projects for the Board of County Commissioners. Under this capacity he managed special projects and coordinated activities with departments, county and other agency personnel involved in the planning, development and implementation of the project. Jacob represented Allegany County on committees, task forces, public hearings and made public presentations. Conducted complex studies and analyzed state and federal regulations to ensure projects compliance.
He specializes in land use and has extensive experience in, zoning regulations, renewable energy, intergovernmental affairs, permitting, and demographic statistics.
Jacob holds a B.S. in Geographic Information Science and Computer Cartography (GIS) and a B.A. in English from the University of Maryland—College Park. He is proficient in French and enjoys photography and copyediting.