Leaders discuss I-270 corridor strategy
By Kelsi Loos News-Post Staff [email protected] | Posted: Friday, December 19, 2014 2:00 am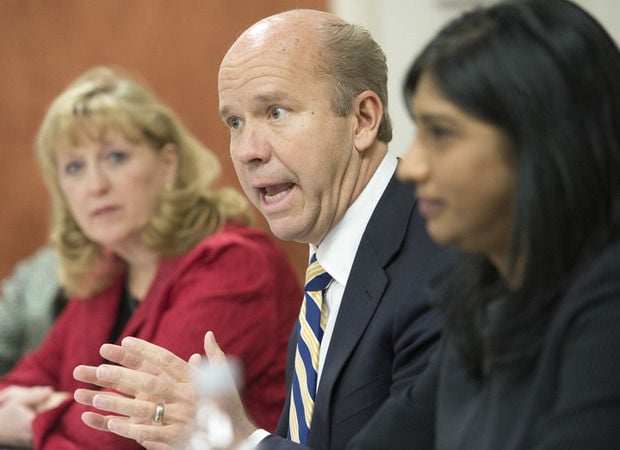 Flanked by County Executive Jan Gardner, left, and Del. Aruna Miller, U.S. Rep. John Delaney leads a roundtable discussion with County and State elected officials on the subject of I-270 improvements Thursday at the Frederick County Chamber of Commerce. Staff photo by Graham Cullen
Representatives of Frederick and Montgomery counties will intensify discussion about improvements to the I-270 corridor.
Rep. John Delaney invited state, county and business leaders to a roundtable Thursday in Frederick to discuss traffic issues and share possible solutions.
Delaney, D-6th, left saying he would draw up a summary of the views the officials held in common to guide the way forward as different levels of government tackle the problem.
Delegate-elect Carol Krimm, D-District 3A, suggested an I-270 work group should meet during the legislative session.
Everyone in attendance appeared to agree that traffic on the I-270 corridor is a serious problem that affects quality of life and economic development.
"Transportation is an area where we find common ground among everyone," Frederick County Executive Jan Gardner said.
Not only do residents need to have a reasonable commute, Gardner said, but businesses, particularly the science and technology companies in Frederick, must have access to the Washington area to operate.
Members of the Frederick County, Montgomery County and Gaithersburg chambers of commerce attested that local businesses see congestion as bad for business on the I-270 corridor.
Delegate-elect Karen Young, D-District 3A, said regional transportation authorities have a plan to expand I-270 by 2030, but funding limitations have made it hard to make improvements sooner.
She advocated a "holistic approach" to the congestion problem that would take into account transportation, land-use and environmental goals.
The group agreed that funding I-270 corridor improvements will be a challenge requiring creative solutions.
Delaney will try to pass a tax bill this session that would allow companies to pay a lower overseas tax rate if they buy infrastructure bonds to fund a transportation bank.
Gardner noted Frederick County has been making the I-270 improvements more manageable financially by breaking the work into smaller projects.
Sen.-elect Michael Hough, R-District 4, looked to Virginia's use of private investment and high-occupancy lanes as a model that might be used in Frederick.
"You have to be careful with public-private partnerships," Delaney cautioned, saying that sometimes local governments don't get the best deals out of those agreements.
Bringing different pots of money together, including private investment, however, is the best solution, he said.
Sen. Ron Young, D-District 3, advocated setting aside separate streams of funding for transit and roads as a way to help make sure both needs are addressed.
"We need to plan our growth differently," he said, adding that it would help to have high-occupancy lanes and buses, as well as policies that make it easier for people to work from home.
Delegate Kelly Schulz, R-District 4A, who was recently tapped as the state's secretary of labor, licensing and regulation, wondered how leaders could help improve transit options for people outside urban areas.
If planners can get transit to rural areas, she said, "I guarantee you that traffic will decrease."
Krimm told the leaders about Bus on Shoulders, a program she has long advocated that would allow buses to travel on the road shoulder at certain choke points on I-270, making transit more dependable and therefore more desirable.
Some states that use the program have seen 400 percent bus ridership increases, she said.